DHT Blocker For Women
DHT Blocker Supplement For Women | Hair Loss Blocker
DHT Blocker For Women:
 Biotin DHT Blocker
There are many ways to use biotin to reverse hair loss. One of the most popular is by taking a biotin supplement. The recommended dosage for this is 5,000 mcg per day. Biotin helps amino acids in the body to create a protein called Keratin. Stronger keratin bonds ensure stronger hair strands that do not fall off so easily.
 Natural DHT Blocker:
DHT is a hormone that can cause hair loss and hair thinning in women, who are genetically more susceptible to DHT-related hair loss. DHT can be blocked from binding to your hair follicles with the help of specific DHT Blocking vitamins and Natural herbs.
Vitamins For Women Hair Loss:
Hair loss is a common concern for women, and It's possible that a vitamin deficiency may be the culprit. Lenobelle was developed for women losing hair due to DHT or lack of certain nutrients. Best DHT blockers combine natural ingredients with proven scientific research
Vegan Collagen Booster:
Lenobelle is rich in plant silica to support the body's natural ability to regenerate collagen, keratin, and elastin. Help Improve Hair Thickness, Hair growth, and skin elasticity
Hair Skin and Nails Vitamins. For Longer Hair, Healthier Skin, and Stronger Nails
What women are saying
Megan
My hair doesn`t fall like crazy anymore, so effective! and there are fewer strands on my hairbrush whenever I brush my hair
Terry Ruiz
My hair is growing in and my existing hair is growing longer. i am excited about getting my hair back
Paulina
You will see the difference in a week or so, I am happy with the volume of my hair, looks pretty and healthy and long. Please don`t take these pills without food. Overall 100%
Made in USA
Proudly manufactured and packaged in USA
GMP-NSF Certified
NSF helps to ensure the highest level of the product ingredient quality and safety nutritional supplement
3rd Party Tested
"Full Ingredient Traceability"
DHT Blocker With Immune Support

Horsetail Extracts
May help strengthen brittle fingernails when taken daily. Horsetail Extracts contains natural silica that aids in maintaining the production of collagen for youthful skin and silky-smooth hair

Fo-Ti root powder
May help combat hair loss and graying, in addition to promoting overall well-being.

Biotin
Helps amino acids create a protein called Keratin which is known to improve the quality and streanth of hair strands. It is particularly touted to help in reducing hair loss and promote new cell generation resulting in the growth of stronger hair and nails.

Spirulina
Offers a synergy of nutrients needed to promote hair growth and slowing down aging of skin cells.

Peony Root Extract
Nourishes the blood, exhibiting antioxidant and anti-inflammatory properties, protecting the skin from free radical damage, induced by UV radiation.
DHT Blocker With Immune Support

Antioxidants
Including Vitamins A, C, and E to protect healthy cells from damage caused by free radicals.

Bamboo Shoot Extract
Rich in Silica that is responsible for stronger bones, sturdier joints, healthier hair, elastic skin, and tougher nails. Also known to enhance the performance of vitamin D and calcium in our bodies, two essential components for healthy hair and skin.

Nettle Root Extract
A powerful herb that may help stop hair loss and stimulate new growth by enhancing blood circulation, providing hair roots with more nutrients and oxygen. Nettle Root Extract also contains super antioxidants that help to get rid of hair damaging compounds and hinder the formation of DHT – the hormone responsible for male and female baldness.

Saw Palmetto
Is a natural DHT blocker. DHT is thought to cause hair follicles to miniaturize, this contributes to pattern hair loss in men and women. Saw Palmetto works on balancing the hormone levels in the body promoting the growth of new hair.

Alfalfa
Is a great source of nutrients for our hair, skin, and nails due to its high mineral content. It is particularly touted to help in reducing hair loss and promote new cell generation resulting in the growth of stronger hair and nails. It is also packed with antioxidants, making it great for managing skin conditions.
Best Vitamins For Hair, Skin and Nails
Hair
Skin
Nails
Benefits
✔ 𝐆𝐑𝐎𝐖 𝐓𝐇𝐈𝐂𝐊𝐄𝐑 𝐅𝐔𝐋𝐋𝐄𝐑 𝐇𝐀𝐈𝐑 For Women and Reduce Hair Fall in 90 days! Are you dealing with women's hair loss & thinning hair on the top of your head, frontal hair line or crown? If so, you probably have too much DHT impacting your hair follicles. You need the DHT BLOCKER w/ Immune Support! 
✔ 𝐁𝐋𝐎𝐂𝐊 𝐃𝐇𝐓 𝐅𝐎𝐑 𝐓𝐇𝐈𝐍𝐍𝐈𝐍𝐆 𝐇𝐀𝐈𝐑: Developed for WOMEN losing hair due to DHT, hormonal changes, digestive problems & stress. Only DHT Blocker powerful DHT blocking herbs & natural antifungal & antibacterial ingredients.
✔ 𝐒𝐓𝐎𝐏 𝐇𝐀𝐈𝐑 𝐋𝐎𝐒𝐒 𝐅𝐎𝐑 𝐖𝐎𝐌𝐄𝐍: Our Advanced Trichology line was created in our top-rated hair loss treatment lab.
Why Lenobelle?
Consuming biotin alone might not be enough to put a stop to hair loss, specially if too much DHT is impacting the hair follicles. A DHT blocker w/ Immune Support is needed, this is done by pairing biotin with other Vitamins, herbs and minerals to get the desired silky skin and healthy, shiny hair.
Biotin and DHT blocker herbs work together to block DHT from binding to the hair follicle, which is the cause of hair loss, together they promote hair growth by increasing blood flow to the scalp. Lenobelle Hair Skin and Nails supplement is a great alternative for people who want to avoid medications.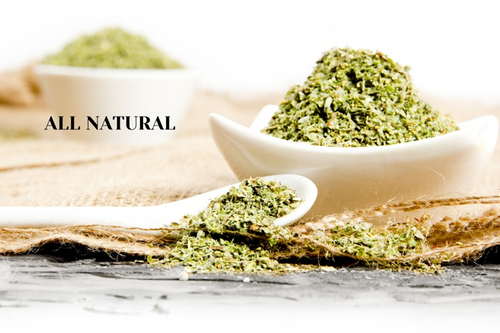 Plant-based collagen builder
Unique Herb extracts: help stimulate the collagen and elastin building cells in the skin and joints.
Plant-based extracts: help protect natural collagen and elastin in the skin.
A unique blend of Vitamins, Minerals & herbs: help boost the body's natural collagen production.
Ingredient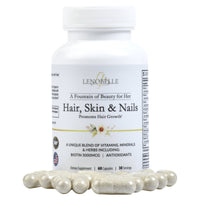 Ingredient
Quantity
% DV

Vitamin A

(as retinyl palmitate)

2400 IU

48%

Vitamin C

(as ascorbic acid)

120mg

200%

Calcium

(as calcium carbonate)

80mg

8%

Iron

(gluconate)

14.5mg

81%

Vitamin D3

(as cholecalciferol) 

800 IU

200%

Vitamin E

(as dl-alpha tocopheryl acetate)

30 IU

100%

Thiamin

6mg

400%

Vitamin B6

(as pyridoxine HCI)

8mg

400%

Folic Acid

880mcg

220%

Vitamin B12

(as cyanocobalamin)

12mcg

200%

Biotin

5000mcg

1667%

Pantothenic Acid

30mg

300%

Magnesium Oxide

120mg

30%

Zinc Oxide

7mg

47%

Manganese Chelate

4mg

200%

Potassium Gluconate

12mg

--
*Daily Value (DV) not established
WARNING: Accidental overdose of iron-containing products is a leading cause of fatal poisoning in children under 6. Keep this product out of rach of children. In case of accidental overdose, call a doctor or poison control center immediately